Description
Axxair 121ECO1 Cutting Machine
Axxair 121ECO1 Cutting Machine – The ECO Cutting range 81M – 121ECO – 171ECO
For more than 20 years AXXAIR has been developing scalable, flexible and reliable machines featuring our patented concentric clamping design and many other functions.
The frames of our cutting machines 122 – 322 can be fitted with a cutting motor, a bevelling motor or with a TIG welding torch.
Our ECO range differs from this concept and is specialized in cutting thin wall tubes.  It offers the same quality of cut than the CC122 – 322 range in a more affordable package for customers who do not need to bevel or weld with the same machine.
We developed the ECO cutting range in order to respond to these users looking simply for a cutting solution for thin tubes.
Machines dedicated to thin tubes <5mm wall thickness*
Easy to move around and lightweight
Attractive prices
AXXAIR choose Metabo to power our ECO range because of the large speed range and higher torque matching the requirements for cutting stainless steel thin wall tubes.
The handle of the Metabo power unit also makes easy and convenient to rotate the blade around the tube.
Our 121 and 171ECO range share the same safe and efficient diameter setting and blade penetration unit than our CC range.
The ECO range comes in a more affordable package but still features most of the designs that made our more advanced CC range so popular among the industry.
Because our ECO range is dedicated to cutting, some of the upgrades and accessories available on the CC range like automatic rotation or automatic clamping are not available for this type of cutting machines.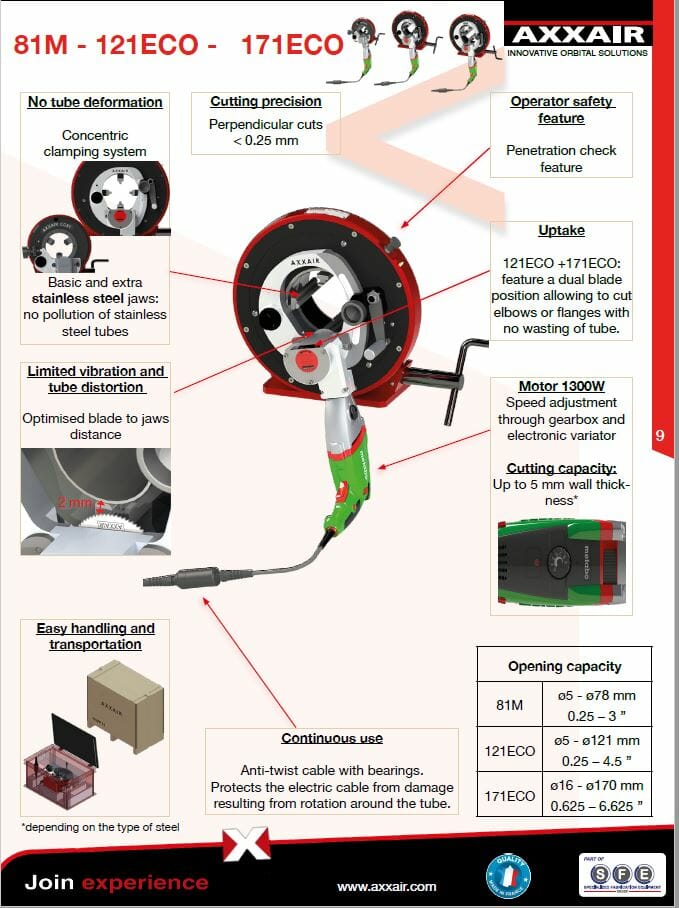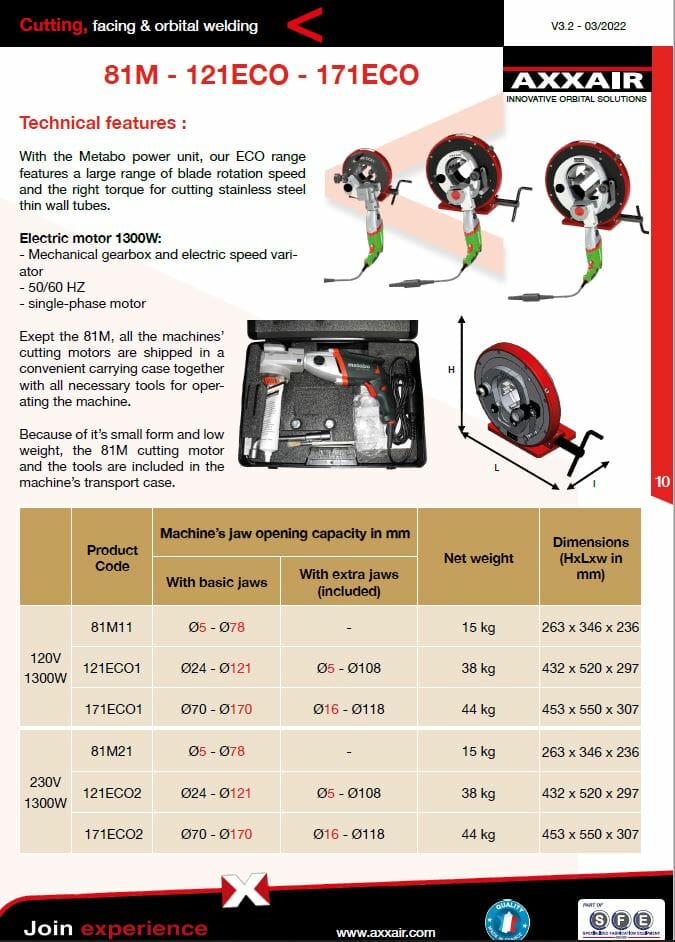 Link to Axxair website here.